Sun, Jul 02 2006 @ 23:48 // Category: Life & Me
For a change. Have a report. With pics.
The reason I went was interview. Interview went reasonably well. Job would be very challenging but fun. Next I'm meant to get a brief to research and prepare a presentation which I will then hold next week. Drew (guy who interviewed me and would be my boss) is very cute and fun and multitalented and geeky, he designs, makes and produces music and other stuff. And he's married with kids. *lol* (no I didn't ask him. I googled him and did some online stalking).
Then because my newly delivered Oyster card had to be activated from Victoria but I was in Farringdon I decided to walk to Victoria. Via the Tate Modern for Kandinsky, which was really amazing. There were lots of paintings I had not seen before, many of which I really loved. I wanted to buy like a portfolio with four of them, but it wouldn't have fit in my bag and I didn't wanna carry it around all day so I'll have to go back for it.
I was shocked to find tho that there are currently no Anselm Kiefer works at the Tate (they usually have seven). I've tried to find out where they are, but was unsuccessful. There was some Kiefer exhibition in Canada but that finished in April, so they should be back by now.

It was very traumatizing, I'd been looking forward to seeing Lilith again. Ah well.
After that I walked along the Thames etc towards Victoria and behaved very touristily and took a number of pics, two of which I will share with you.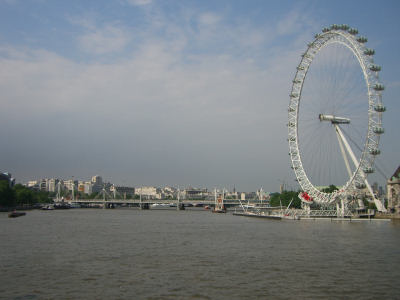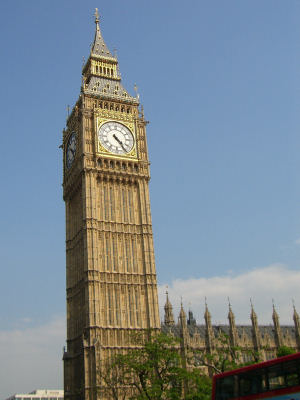 Then I went to Subway (Thursday! Italian BMT day!) , then online, then to Hyde Park where I was soon joined by a marvellous Mel. She shouted to me and woke a guy who'd been sleeping in one of the sun loungers on the lawn.

He looked very displeased, but his phone rang like 30secs later so that would've woken him up anyway.

On our way out of Hyde Park we found incredibly fat people. So I took a pic of Mel, making sure I got the fat people too. They were really quite amazing.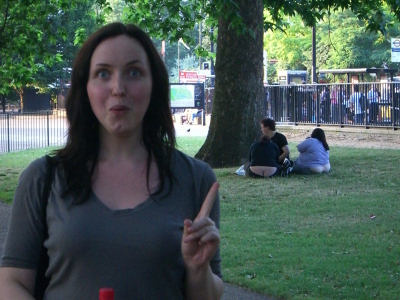 Mel is pointing out the bum cracks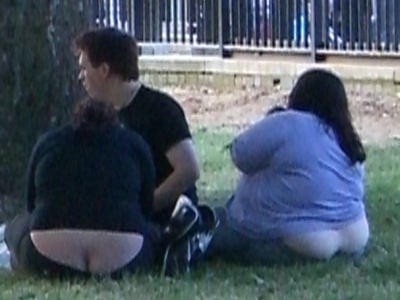 Close up. Will you look at that!?

We went to Asda and bought loads of food (we wanna look like that too!), then went home and bummed about (no pun intended lmao). I did fall asleep on them of course (I'd been up since five!!), but I woke up again and stayed up with Mel until 1am.

The next day we just stayed in. Well, Mel went to the doctor, but I... didn't. We watched hilarious talk shows ("You're too fat to strip!" on Ricki Lake - Obese Denise didn't agree

) and wasted some time online. And I cleaned Mel's PC of the 537 trojans, spywares and whatnot else she had on there.

And we chatted and bitched loads, mainly about how all men are bastards.

Mel is very wonderful.

Eeeventually we went into C.London to buy GREEN FACE MAKE UP so Mel can paint herself green and stand outside the House of Parliament asking for directions to Big Ben!

And also for Pride.

Which she has agreed to come to Brighton for.

She tested loads of greens on her hand and it ended up looking like this: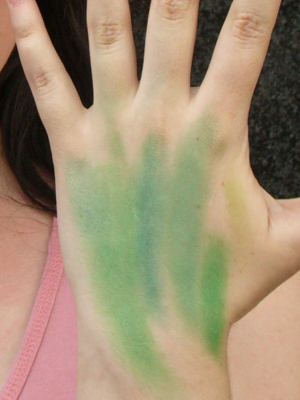 Aaaah the greenness!!!!

I then had to leave a Mel who returned home (

) and I headed to Maida Vale to squiZZ's house. We, um... well first I went online to cry some with Katja about Robert Gernhardt's death, and then we watched Big Brother but I found that boring mostly. Then we talked for ages about jobs and travel bookings and stuff and squiZZ tried to explain to me how it all works but I didn't understand all of it. But that's ok. Oh and I also got to see the hamsters, Chubby and Skinny (the fat one really is fat!). I didn't take any pics of them tho. From 150 on my first visit to 5 on my second visit to... none on my third.

Then we watched Janet Velvet Rope and squiZZ fell asleep and I freaked out somewhat (for a change lol).
Next day we went to collect a perfect Tom from Kings Cross and went to Ikea, as squiZZ needed a duvet. I will show you a Tom, and also a squiZZ.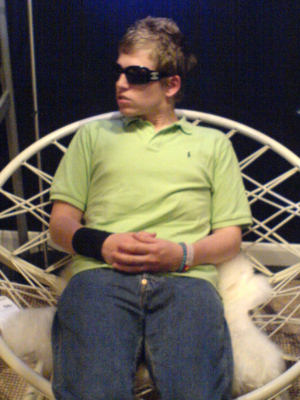 A Tom in an Ikea chair

(notice the green!!)

.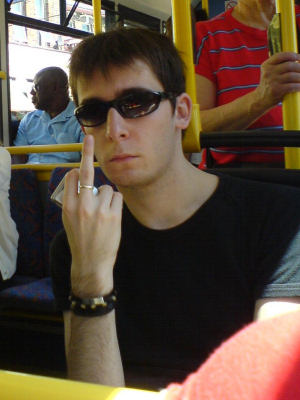 A squiZZ on a bus being his usual rude self.
And now of course I will show you all the things I bought at Ikea. Sooooo much colourful stuff, and it was all reduced and very very cheap!!!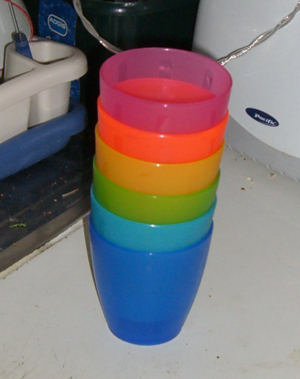 These aren't that exciting, but colourful! And only 99p for all of them!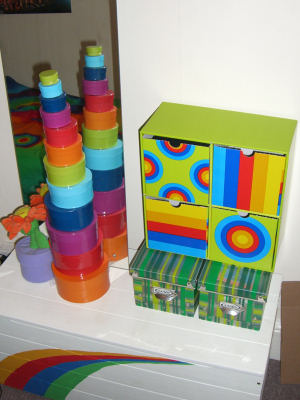 The new thing is those drawers/boxes top right. Had to show it in context
cuz they just look so cool with Mon's boxes.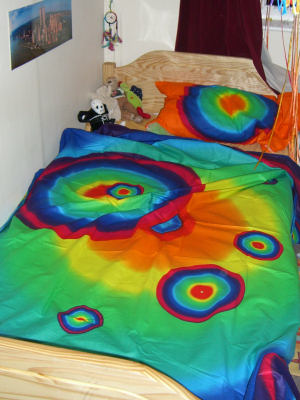 The bedsheets... what can I say? Woah!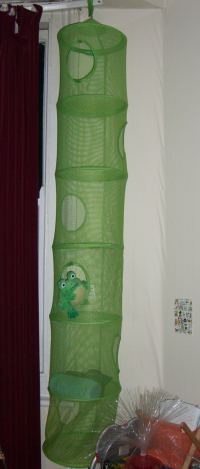 Finally, this thing... I don't really have any use for it, but it was only £1.49 and it's green and just so cool. The frog is new too btw. Got him from Paperchase the day before.
Yeah that's all the Ikea stuff. Fun yes?



That's pretty much the end. I went home after that. I missed most of the England match but that was boring. I watched the France match, but was on the phone to my mum so we both missed the goal.

Was fun tho and I AM SO FRIGGIN EXCITED THAT THEY'RE IN THE SEMI-FINALS! ALLEZ LES BLEUS!!!! etc.

The end.

---
Mon, Jul 03 2006 @ 19:04 // Category: Life & Me
UPDATE 2 - yet another point completed!


research Drew's recommendations


sign on at job centre (decided against it as would be fraud & am scared of being found out)


do some work for Jeff


write overdue letter (done)


do laundry


contact Alison about publishing job (she contacted me first)


return ACL (Lux car association) card for refund


look through graduate employers booklet


reorganize clothes into hangy thing


return aerial to Argos


buy various things


select therapist (& called too!)


make doctor appointment


make dentist appointment


go to laser clinic for info
Also, what wasn't originally on the list:


clean bathroom


go for a swim
I'm quite pleased with today's output.

---
Wed, Jul 05 2006 @ 21:29 // Category: Photolog
by a hamster.
Continue reading "Exploration of Toma"
---
Thu, Jul 06 2006 @ 23:54 // Category: Life & Me
It's not spring. I'm not clean. But I have decided I need to sort out some things.
Continue reading "Spring Clean"
---
Fri, Jul 07 2006 @ 20:25 // Category: Video
And I made videos! Ok so I did a few takes and then a conclusion so you get to choose, but you have to watch: (all wmv)

- Take 2 which is the longest one and tells you all you need to know. (8mins, 8.36MB)
- Take 3 which is the conclusion and comments on the earlier ones and I had calmed down somewhat. (3mins, 2.8MB)
And then if you're bored and still have time you can also watch:
- Take 1 which was the 1st one and most spontaneous, but largely the same as Take2, tho with some extra info.

(4mins, 3.7MB)
---
Sun, Jul 09 2006 @ 04:32 // Category: Randomness
We have a secret!!!

And we're very excited!
---
Sun, Jul 09 2006 @ 21:45 // Category: Randomness































































































Fuck you all!!!!!!!
---
Mon, Jul 10 2006 @ 15:19 // Category: Memes
stolen from Martine
Continue reading "Survey: One Word"
---
Tue, Jul 11 2006 @ 12:17 // Category: Memes
Found on Skyler's LJ. This thing is long ! *lol*
Continue reading "Yet another meme..."
---
Tue, Jul 11 2006 @ 19:52 // Category: Randomness
I was looking for sth just earlier and came across these random scribblings from my teaching classes. So because I have nothing better to do I scanned them.

This is from early 2003 I think.

It's all from the same notepad and they were consecutive pages (possibly all done the same day).
Continue reading "The randomest scans"
---
Thu, Jul 13 2006 @ 09:38 // Category: Opinionated
The Middle East
The Middle East
When will the violence sleep in the Middle East
The Middle East
The Middle East
When will the violence
Say peace
Say peace
We don't want no war no more

Wyclef Jean - War No More
*sigh*
---
Sat, Jul 15 2006 @ 21:38 // Category: Randomness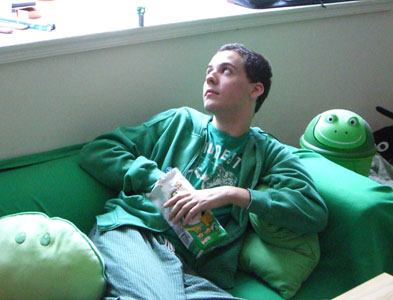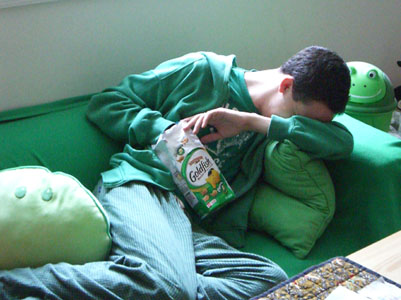 So: pyjama trousers, Goldfish & T-shirt property of Charlie, jumper & hidden Zen property of Wam, blanket, bin, cushions and everything else property of Jimmy (actually one of the cushions is mine now cuz Jimmy's wonderful and I kept going on about how amazingly cute it is so he said I could have it)
OUR TASTE IN COLOURS FUCKING ROCKS!!!!!!!!!!!!!!!!!
---
Sun, Jul 16 2006 @ 00:12 // Category: Life & Me
well most of you do already but just so it's official...
I am in America.
Continue reading "Just so you know..."
---
Mon, Jul 17 2006 @ 05:07 // Category: Life & Me
She is extremely cute and her concert was very enjoyable. We took some pics but they all turned out shit, so you'll have to trust us on the cuteness.

Tomorrow we're going to New York.

Can life get any better???? I don't think so.

---
Wed, Jul 19 2006 @ 17:13 // Category: Life & Me
Guess where we're going tonight????
P!nk live at Webster Hall!!!!


I am soooo friggin excited and I wanna run straight back to the hotel to tell Charlie, but I have to use up at least some of my hour of wireless that I've paid for... so instead I'm telling all of you!

I'll also show you some pics of perfection...
Continue reading "We love NYC & P!nk!!!"
---
Thu, Jul 20 2006 @ 19:17 // Category: Randomness

That's somewhat disturbing.

But fun!!!!!!!!!!!!!

(more later... about green P!nk & our amazing new room!!!! now we shall be off to Staten Island... hopefully

)
---
Fri, Jul 21 2006 @ 05:57 // Category: Life & Me
So. New York is fabulous. I remember writing very similar entries when I was here 14 months ago, and this is great for two reasons:
i) I still love this place. I can still get excited over walking through the streets of this city and marvelling at the amazingness of it. This is important to me.
ii) I am in love with a place I am actually able to visit. Yes it's far and expensive, but it could be worse. I could be in love with Phnom Penh or something.
So I am glad. Very glad. I love New York. I love to love New York.
But I promised you an entry about... things. So I will do that now. With pictures. Enjoy.
Continue reading "Love"
---
Mon, Jul 24 2006 @ 03:53 // Category: Photolog
My Friends in front of grotesquely obese people sitting under a tree.
Continue reading "I'mma start a picture collection"
---
Tue, Jul 25 2006 @ 22:18 // Category: Photolog

Don't wanna be here.

Miss Charlie.



I dunno if I'm gonna do a proper travel report at some point. Don't much feel like it right now but I'll probably regret that later. Anyway you can look at 250 of the pics I took. They are here. Enjoy.
---
Wed, Jul 26 2006 @ 03:23 // Category: Life & Me
Ok I'm gonna try to write that travelog now. I've spent all day looking at the pics anyway so I might as well add the words. Might keep it short tho [ok scrap that, this ain't gonna be short]. Remember, pics for illustration purposes are here.
Continue reading "USA travelog"
---
Wed, Jul 26 2006 @ 10:13 // Category: Randomness
Matthew Kneale is the son of Judith Kerr. I had no idea. I read his book a while back and liked it a lot. Her Hitler books are my most important childhood reading along with Anne Frank's diary. Like, wow. Charlie has read her too btw (just thought I'd include him in this entry *lol* - well that's how I found out about this, cuz we discussed her).
---
Thu, Jul 27 2006 @ 00:00 // Category: Random Lyrics
It's not meant to be like this.
Not what I planned at all.
I don't want to feel like this.
Yeah.
No it's not meant to be like this.
It's just what I don't need.
I don't want to feel like this.
So that makes it all your fault.
---
Thu, Jul 27 2006 @ 17:53 // Category: Me about me
I do not like myself much right now. I guess that's not surprising.
Continue reading "All Good Things"
---
Sat, Jul 29 2006 @ 03:32 // Category: Photolog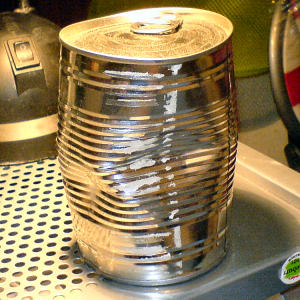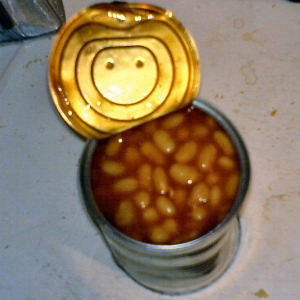 ---
Sun, Jul 30 2006 @ 15:18 // Category: Randomness
Warm breathing creature.
Currently roaming around North Carolina somewhere.
If you see him please put him on a plane to Gatwick.
Kthxbye.
---
Sun, Jul 30 2006 @ 23:23 // Category: Video
Well, she had me. And we had a great time.
Continue reading "I had a slore!"
---