My bank wants me to create an investor profile. For this I have to answer a number of questions like "what return do you expect, how long do you want to invest for… etc". And this one:
How would you react if the value of your portfolio declined by more than 6% – 9% – 12% – 15% (according to your replies to Questions 5 above)?
I would not be able to sleep. I would sell all my risky investments immediately and switch to safer investments.
I would not sell immediately, but I would keep close track of the portfolio and I might step in, if the situation worsened.
I would hold on to the risky assets in the hope of making up for my current losses over time.
I would see the decline in my portfolio as an opportunity and increase my exposure.

That is so cute! :)) (I chose the 2nd option btw) My mum tells me they have to ask those questions of every investor to minimize the risk of litigation (and this is way pre-crash cuz I've dragged out "creating an investor profile" for at least a year.) Oh and btw my result was this: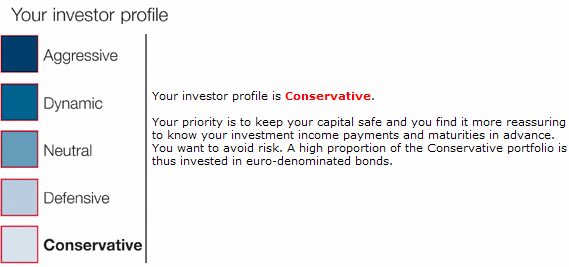 No kidding. *lol*