I know this is evil and immature, but it is/was rather amusing. :)) Charlie changed the Michael page on Wikipedia to include MJ – nested snugly between a King of Poland and a King of Portugal: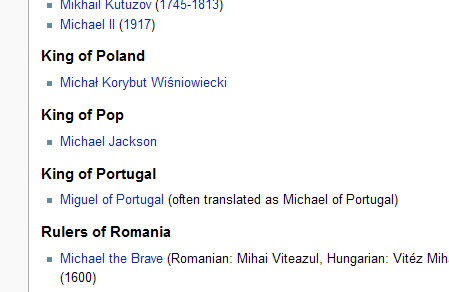 Doesn't it just perfectly fit in there? :)) Poland, Pop, Portugal! *lmao* Yeah so I just remembered it and went to check how long it took to be removed. Well, the first edit was someone moving him down to Popular Culture – after over an hour! Woo! And then it took another 5 hours for someone to remove him altogether. :))
And while I was there on the history page I spied on some of the more recent edits too. Some are just hilarious. :)) Someone added:
mike i love u from zach 2 seats in front of u
at the top of the article. *lol* But he removed it himself a minute later.
Someone else put at the bottom (under "other"):
Michael ****, fat, almost completely bald, obsessed with fans, and a teacher at ***** High….he also makes jokes that do not make sense. Idiot
*lmfao* This was reverted back within a minute. Wheeee! Our King of Pop lasted ages compared to that. 😛