Well right now I don't cuz he's in town meeting George. I want him to return to me soon, he's been gone 5hrs and I miss him. 😐
I've had an odd week-end. It was full of highs, like some of the highest highs I've ever had, but it also had some scary lows. The worst one being the below entry. Sorry if I offended people, and of course you don't all suck. But anyway let's go chronologically.
My Charlie arrived on Thursday. I took him home and… that was it. We did just like general computer stuff and talking and stuff. And lots of hugging and squishing. Friday I had to go to work, and then afterwards we went up to London to meet up with Alisdair and then stay at Mel's.
Alisdair's weird. He didn't sound too fussed about meeting us at first, but then in the end he did anyway. We went to a cafe near London Bridge. Seeing him and Charlie together was… a big thing, and also weird. But also good. I discovered I am still far too… in love with him, if you wish. It's bad. But he really is very hot. Still. But oh so odd. So anyway, have a picture of two hot guys.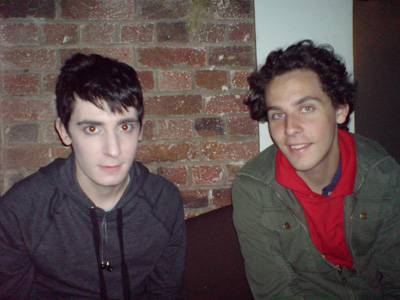 So then we went to Mel's via Asda, where we… er… watched TV and hung about and chatted. Mel and Charlie got on extremely well, which resulted in slight jealousy from my part, but mostly I tried to deal with it. I am glad they get on ok. They are very cute together, and Mel is very wonderful. Tho she also turns Charlie hyper the way she does with L.J. 😛
Theeeeen the next day we veeery slowly got up and stuff, and then went into London while Mel came down to Brighton. We first went to Oxford Circus to annoy Alisdair at his job a little. Then we wandered around London and eventually went to Kings Cross to pick up Thomas who was arriving from the North. This was the very first time him and Charlie met, altho online they've known each other for a while (longer than squi and Tom for instance. but not as long as squi and I lol). They also got on wel, which was good. Unfortunately I only have one pic of them together, smoking out of Alisdair's bedroom window.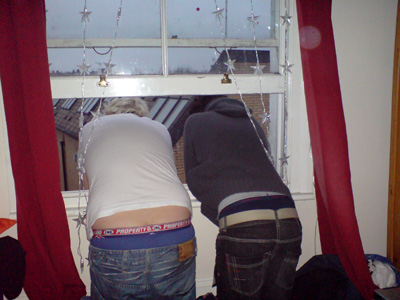 Alisdair got home from work at some point. And we did more hanging about. Then left rather abruptly I believe. *lol* We were a bit freaked out. But they're meeting again tomorrow so is ok.
Once we were back home Charlie sorta collapsed in bed and I had my crisis, and whinged to Jimmy for ages on the phone, and to daniel online, and quite generally wanted to die. But then I eventually went to join my Charlie in bed.
Which is where we spent most of yesterday. With Tommy the laptop. Watching videos on Youtube and laughing hysterically, and whoring ourselves on cam. And then in the afternoon we met up with Mellie and L.J. At Starbucks. And then Pier. And then beach. Have some pics.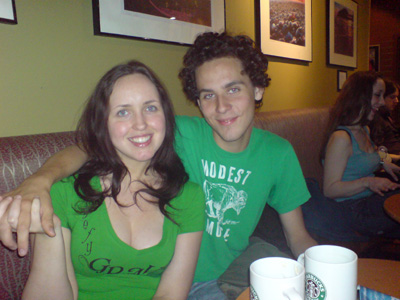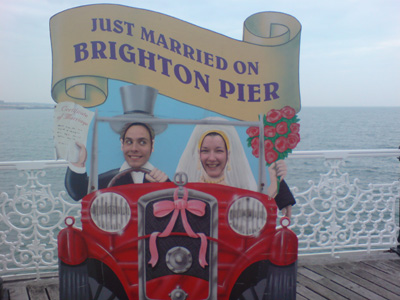 Yeah and then we came back home (without the 3 girls) and did more lying about. Today I called in sick (how surprising). And now is now. I think I shall text Charlie now and demand his return. Or is that selfish? *sigh* I'll have him for 2 more nights. Thursday morning he's leaving. Then I shall die or sth.