Just a quick entry to show off my two latest objects of droolment…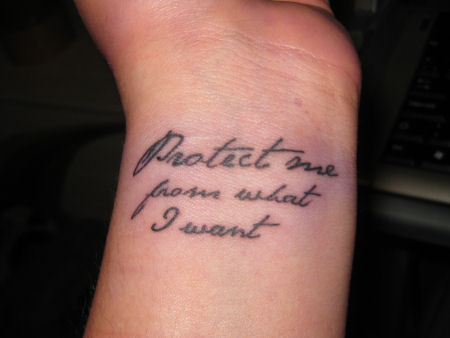 Ok so here's a proper close up of "the" tattoo. =P~ As you can see I decided to go with Jane Austen, and as you can also see we ended up doing it on 3 lines, cuz on 2 lines it just stood out both ends too much. I actually like it very much on three lines. I also like it very much full stop, I think it's pretty damn perfect – I mean look at it!!!! =P~
Mhm. As for the experience… yes it did hurt – I wouldn't call it a "pleasant" pain as some people have tried to make me believe, but it was a bearable pain and totally worth it considering the result. Would I do it again – in a heartbeat. (have actually started thinking about that bat again… ah but not just yet. but how about "Protège-moi de mes désirs" on my right wrist? *ahem*) My tattoo guy was very cute and patient (we tried 4 different transfers before I was happy) aaand the actual tattooing only took about, I'd say, 15 minutes at most.
Ja, so am very pleased and proud. 😀 Ok and now I must show you my kitchen, tho I wasn't gonna until it's all done and I can do like a proper tour and stuff, but it's just so damn hot that I cannot wait any longer, I must share its beauty. Drumroll and all that so… scroll down…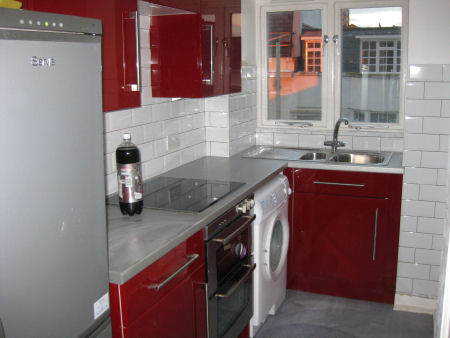 What can I say – if this isn't the hottest Goddamn kitchen I have ever seen in my life I seriously don't know. I might even start to enjoy cooking, who knows! I mean will you look at those colours?! That silver and that red?! And those incredibly cool tiles!? That sexy fridge? That amazing oven? And as Jimmy pointed out and I hadn't even thought of – it's Diet-Coke-themed! 😀 :))
I never actually got to tell "the fridge saga" on here, basically the original fridge I'd ordered wouldn't go up our staircase – well they managed up to 2.5th floor and then got stuck. Plus it got dented. So they had to take it back down again. And I was annoyed. But I got a refund and found this smaller one and I am glad I did for the other one was white and this one is silver and of course silver looks so much better.
Now the only sore point is the washing machine but since it's kinda shit anyway I will get to replace it soon with a silver one too. Then complete perfection will be achieved and Alisdair will probably set up camp in my kitchen. *lmao* Except I won't let him for this is myyyyyyyyy thing of beauty! DAYUM I have great taste! 😀