… so again I should probably head to bed soon, but let me first ramble for a while. Maybe the time has come where I will finally update more regularly again? Dunno, we'll see I guess.
Dentist was ok, we ended up not doing anything else since we're still not sure what it is and didn't wanna do any scary experiments before the weekend. Back on Tuesday. I headed straight to work afterwards and spent pretty much all day writing my appraisal. God I hate these things, it was as painful as writing an essay, with the added horror of having to write about how awesome I am. At least I get paid for it. Not that I get any more (payrise) for it, apparently I've not been permanent long enough. Jana says I should make a fuss but meh. I wish I could muster up the necessary energy or fighting spirit. 😐
The exciting bit was all the flat stuff of course. We spent an hour and a half in B&Q humming and hawwing over colours, esp. shades of off-white – it's amazing how difficult it can be to decide between Picket Fence, Cotton White or Antique White. We ended up going with Antique White btw.
Then I went off on my quest to find the perfect colours for my vision of a "Windows XP deep sea bathroom"… and couldn't find anything I liked in bathroom paints. Until a helpful B&Q assistant pointed out they had the amazing mixing machine which could do just about any shade of any colour – OMG BBQ!!! 😮 😀 (reminded me of a long lost Monentry tho 🙁 ) . So after googling "windows XP" on my iGor for screenshots we ended up with Azure Fusion 4 and the awesome Dublin Bay 3. =P~ I might actually do my front door with the rest of that. (except 2nd floor flat has a green door too so I'll look like a copycat 8-| )
Then of course lots of utensils had to be bought such as paint rollers, masking tape, buckets, a stepladder and God knows what else. No idea where I'll put all the stuff once I'm done decorating but what the heck. :)) Oh and I got a cool set of 3 photos-on-canvas of Times Square. And we had a look at bathrooms and kitches and I snatched lots of B&Q catalogues and I think I've found the sink I want – the Barcelona Compact – a corner sink! What a cool idea! I also found the coolest shower curtain ever – reversible with fish on it! So from one side you see the front of the fish, and from the other side you see the back! (not on the site I'm afraid) Too fucking cute! :)) So I had to buy it even tho we'd just decided to go with a glass divider for the bath. Just tooooo cute! And hey – deep sea theme!!! 😀
All this linking to paints and bathroom appliances must seem dreadfully boring to you, but I'm actually getting really excited about it. The other mega-exciting thing we found out was that we could actually turn around the existing bed in the bedroom, using the room much more effectively. Woo! And here's a pretty pic of all our purchases: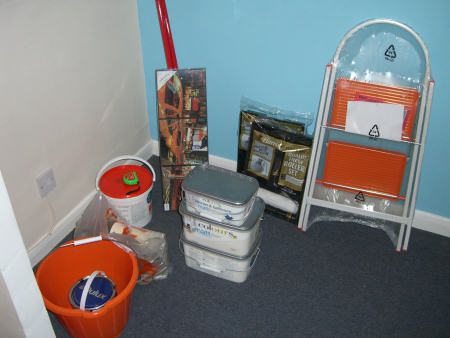 Afterwards of course I ended up going to dinner with Antje and Jana – was actually very yummy, and also mostly fun (and very bitchy). They are very fun to be around, really. We shall see how I deal with seeing an awful lot more of them in the coming weeks. 😛
And now I am getting blissfully tired so I shall run off to bed. Another big day tomorrow.