Sooo I am back from Paris and here's the inevitable report for my collection (incidentally I should search for all the old entries and make a general link page).
First off, it was very nice – as always. 😡 I was glad to find out Charlie hasn't managed to destroy this for me. 😀 (I was a bit scared as you may know). The weather was pleasant too, not too cold at all, and only a little bit of rain one morning. My mum and I didn't fight either. It was very very very crowded tho. Bloody tourists. *lol*
So, what did we do…
When I arrived around 3pm, my mum was already out shopping and came back to meet me at the hotel. We started by having lunch a mid-afternoon snack, then went to the Musée du Moyen Age. My mum had complained last year that I hadn't taken her there yet. I knew for sure I'd been before but figured it might have been with Charlotte. It was very nice anyway. (my mum decided in bed later that night that she may have been before after all lol).
Next we went to the Centre Pompidou to see L'Atelier d'Alberto Giacometti which was also ok (my mum's choice). Since we'd paid anyway we did the rest of the museum again too (well, we started), but our feet hurt too much after a while, plus my mum was bored. Oh, we also watched beatiful (dark) Paris from the 6th floor and saw sparkly Eiffel Tower twice. 🙂
Then we went straight to our cute little Italian restaurant (yes we own it) where I had deeee-licious ravioli – spinach, salmon and walnut. =P~ (not all mashed together – there were 3 different kinds).
Next day… ah yes, first essential shopping – deodorant, painkillers, CDs, stuff like that. On our way there we walked past the Jardin du Luxembourg cuz it always has some photo exhibition on its fence. This time it was about 50 years of space exploration and quite interesting. We also saw loads of people queuing for an Arcimboldo exhibition and decided one must be mad to queue for so long. Oh yeah and we went to the garden of the Hôtel de Cluny which was also fun – all medieval-like and telling you interesting things about what they used to plant back then.
Yeah then we got stuff. I bought a book with "unknown Paris" – like little fun things that not everyone goes to. On our walk back to the hotel we tried to see a few but they were all closed. *lol* We found loads of things we need to do on weekdays actually… but of course we only found out about them on Saturday morning. :)) 😐 But we also generally found out there is still sooo much we have to see in Paris… so we have an excuse to go back many more times. 😀
Theeeen my mum wanted to see the garden of the Palais Royal which we'd also never been to yet. This was also fun. Not unlike the Place des Vosges which she also loves, so not surprising she was drawn to this, hehe. We also found the newly redone Place du Marché St-Honoré, which we'd also not seen before. And we bought things, such as a fruit & veg peeler which can peel tomatoes and peppers! Woo! *lol* Mhm, then we went to see a Chaïm Soutine exhib at the Pinacothèque… also my mum's choice but pretty cool. We both loved his landscape paintings… esp. from when he was depressed. *ahem*
Then we walked back through the nice dark Tuileries which were full of people too and that was nice (we don't usually go this late in the year so was fun to have so much dark Paris). Then lunch at small restaurant with overworked waiter where we had to wait aaaages for our food but it was very yum 🙂 (and he was very apologetic).
Ok. Sunday. My mum overslept and I let her cuz I like lying in bed. 😀 Then after packing and checking out we went to the Musée du Quai Branly. We saw another cool photo exhib (kinda random pics from around the world) on the bank opposite it… and then we saw the massive queue to get into the museum (it's free on the first Sunday of the month). It was like a 3hr wait! So of course we decided to go back next time. 😛
Instead we went to another Middle-Ages museum at the Tour Jean Sans Peur to learn about school in the Middle Ages. This was also fairly interesting. Tho feet hurt. *hehe* Theeeen (and finally) we went to the Musée des Arts Décoratifs for the influence of Islamic Art on deco around the last turn of the century. This was rather boring. *lol* (I knew I'd find it boring, but I knew that if we'd go to see Edward Steichen instead, which I preferred, my mum would've found it boring and complained the whole time. However my mum was disappointed with this too. But at least she couldn't blame me, hehe).
Yep. The End. I mean, walked back to hotel, had a last drink, then left on our respective modes of public transport, hehe. So as I said, was very nice nice. I love Paris. And next time we're gonna rent one (well, two) of their cool new bikes and cruise around. :]
Oh yeah and the National Express guy let me on the bus for free, how cool is that!?!? (usually £18 I think) And I found a cool Arabic coin with a horse on it at CDG airport and asked the waitress if I could take it if I gave her 50 cents tip instead and she said I could take it for free and I said wow thanks but I'd give her the 50 cents anyway. 😀
Now I'll leave you with a few pics. 😛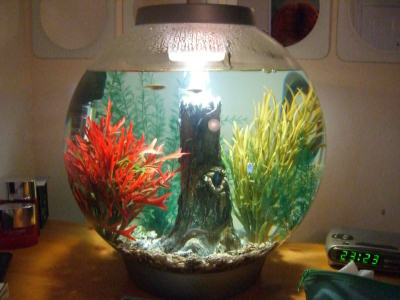 squiZZ has fish! (yes this was pre-Paris obviously lol)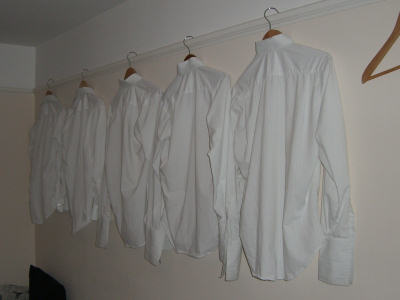 squiZZ has shirts! (they're his work-shirts, always makes me laugh the way they're lined up :)) )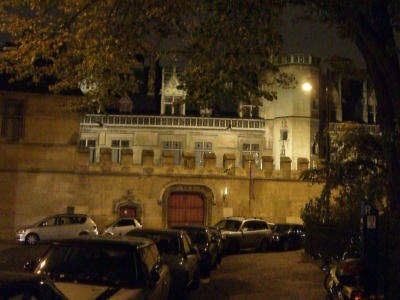 Hôtel de Cluny – the one with the Middle Ages museum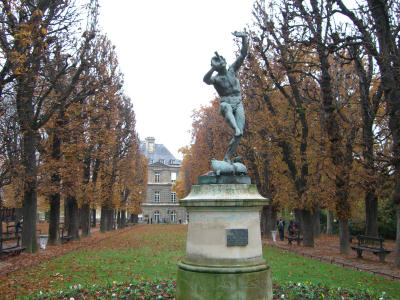 Autumny Jardin du Luxembourg with dancing faun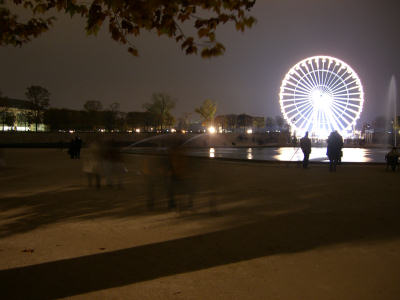 Dark Jardin des Tuileries with ghost people and ferris wheel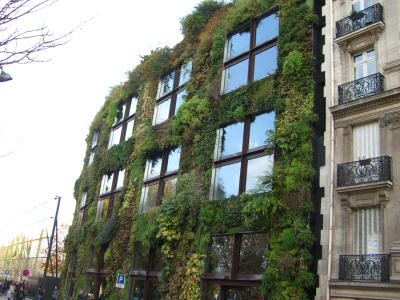 Fun house with plants growing on it! 😀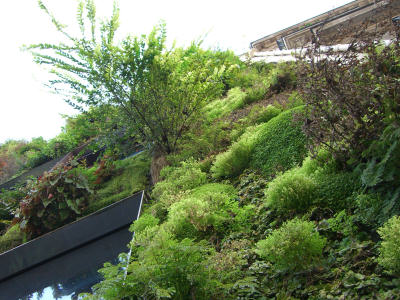 Mon wants one. Me too. It's very green. 😀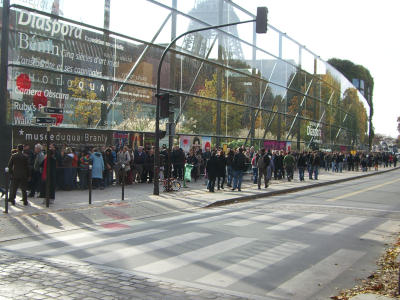 Loooaaads of people queuing for hours.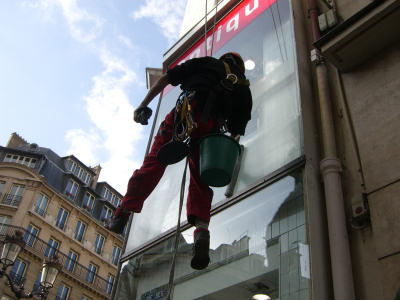 Window cleaner (not dead person)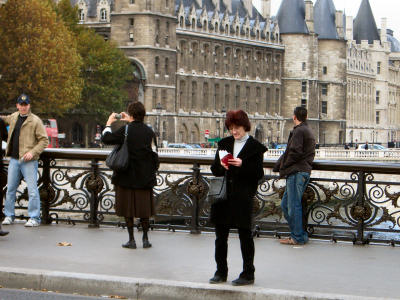 My mum and some other people.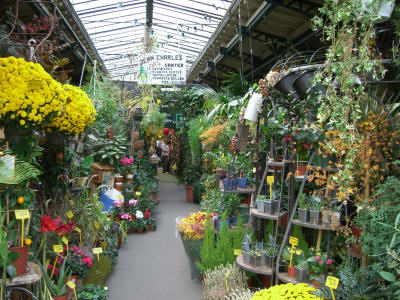 Funfun flowershop thing.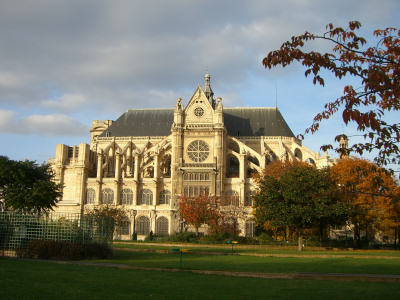 Finally, St Eustache in the late afternoon autumn sun.