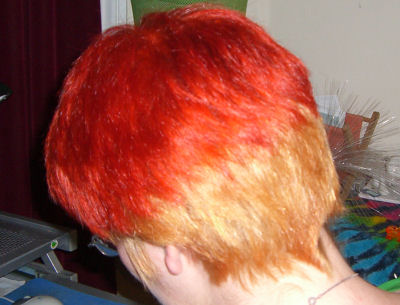 Like so! :))
Here's how it happened….
Touching up the hair was long overdue…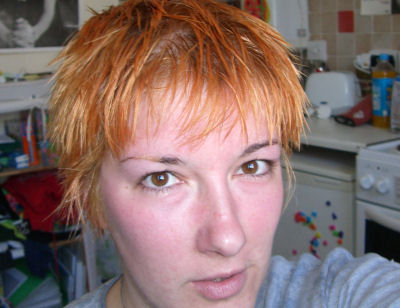 I started with the bleaching as usual.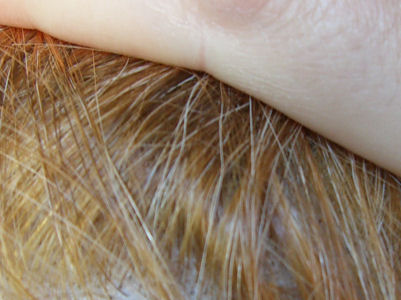 Shock horror – lots of grey hairs!!!!! Well, white really.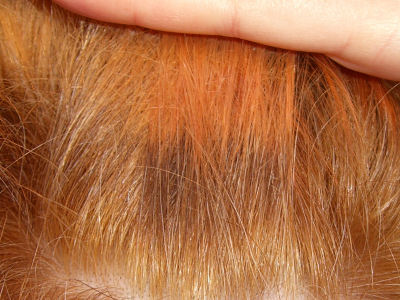 Also interesting – pre-dyed bleached (ends) vs and natural-colour bleached (roots).
Yeah then after this I was like "hummm, just going for the usual red now seems boring." And now that I'm permanent at Amex I can go crazeeee cuz they can't sack me that easily anymore, besides their whole collections procedure is IN MY HANDS muahahahaha
– ahem, anyway.
So with the help of the lovely and amazing Prue I decided to try… the above. Except at first I didn't know how to do it in practice without making a huge mess like when Tom suggested I should do purple/red stripes and I ended up pretty much purple all over. But then I found! 😀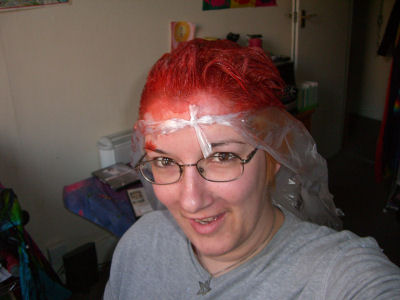 Shopping bag around my head, looking like a complete fool! :))
Of course it was exactly then that John- the- lovely- gay- but- sometimes- annoying- property- manager called me and said "hi you're gonna hate me, but I'm outside your door." (to collect the rent which was due 3 days ago) 😐 I was not terribly impressed… but on the other hand wtf. :)) I did tell him I did indeed hate him tho lol. He said "you should see me with my face mask on." Gotta love those fags! C'mere! =P~ *ahem* Sorry. So anyway. End result as above… and to end this entry here's a pic taken from the front, where I look pretty boringly normal. Well, just bright red as usual.