… and I got presents. I only got most presents today cuz "failed delivery" cards just kept accumulating, so I waited til I had a few and went to the post office just once. :)) So I will show you presents now. :] There have been some weird coincidences, present-choice-wise. You will see…
Ok so I'll start chronologically, with Katja and Tobias' presents, which I got before leaving for NYCee. 🙂 Was huuuuge and heavy box (should probably have taken a pic of that too, but have just… oh no wait, I forgot to take that one downstairs :)) hm ok wasn't that huge after all, but was scarily heavy)
So are big and heavy books too, with lots of NYC droolage (bittersweet by now of course, sigh) and Queer Art Encyclopedia (are you calling me gay?????). And no, of course the fact I was going to NYC does not count as a weird coincidence cuz they knew that. :))
Ok next up is my mum. Obviously mostly my birthday present was this trip (which cost me almost exactly nothing! I went there with $71 and came back with $40 or sth, and the only money I spent on credit card was for some DVDs, which doesn't count). Um anyway she got me some small things too….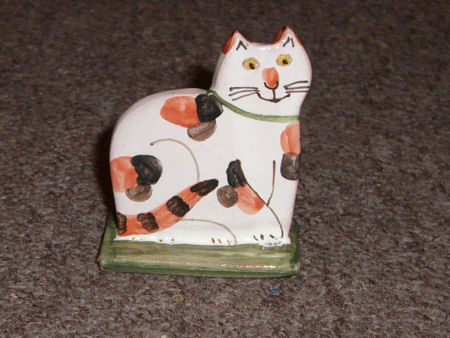 A cat! Cuz I can't get a real one. (she bought this in Lux)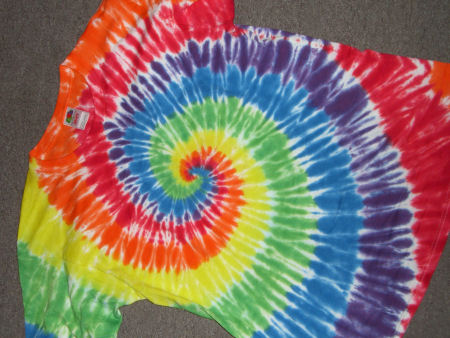 Most amazing (!) colourful tie dye Tshirt. She thoroughly disapproved of it, but bought it for me anyway, proving yet again she has given up on me ever growing up. I got loads of "I love your shirt!" compliments when wearing it btw! I love New Yorkers. 😡
Next up… work people. Oh actually I have most of that stuff still at work, so no pics here. They got me multicoloured pencils (you know, those ones that draw in different colours depending on which way you turn them), a green flower-shaped pencil sharpener (probably because I had whinged about wanting a pencil sharpener when I first started). And nail varnish. Here's coincidence No.1 – it was the exact same (orange, not green!) nail varnish I'd bought for myself just 2 weeks or so earlier. So at least they knew what I liked (even tho now I have two of the same). 😛 Oh and they got me sweets, hehe.
Ok now finally to the stuff I collected today. 😀
So from my Angel Person (aka Mon!) I got… a cat! Cuz I can't get a real one, and cuz she just won't bloody give in and finally give me her little hairless dog. 🙁 Ok so this cat is fun and weird, in that it stands and walks/floats with you… I tried to film it but it didn't work so you'll have to make do with a pic. 😛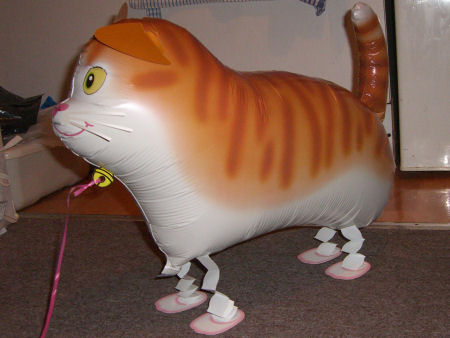 It's actually quite amazing how it stands (I assume you realise it's a helium-filled balloon standing on harmonica-legs). (geddit? harmonica? coincidence? I don't think so! lol) Filling it too little or too much will, I suppose, make it lie down, or float up. But it stands! 😀 (for now :)) )
Yeah so this is obviously another one of the strange coincidences, tho Mon thinks it isn't so, considering how much I've been going on about cats. Ok so how about the fact they both have bits of ginger in them, uh?!?? :no :))
From Lo I got books. 😀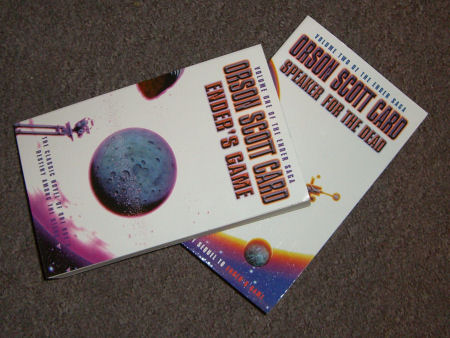 No huge coincidence there, except I like reading and I'm a nerd… oh hang on, she knows that, so probably not a coincidence after all. 😛
Ok so next – and main – coincidence.
I shall have to start with the present from the Twat squiZZ: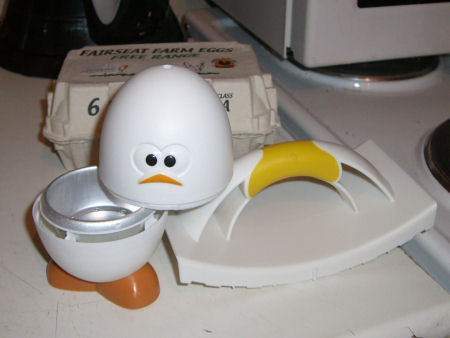 So this sells as a "dippy egg set" – the egg thing is for boiling eggs in the microwave, and that other thing is for cutting toast into handy little strips for dipping purposes. The reason he got me this is because I, um, used to boil eggs in the microwave by just… putting them in there, and sometimes it would work, but often it would result in big explosions and mess. :wh And he thought of that when he saw this and decided I needed it. *lol*
So that's very cool. 😀 Now for the coincidence part (yes yes, getting there!). My shockingly useless slore got me this!! EGG CUP!!!!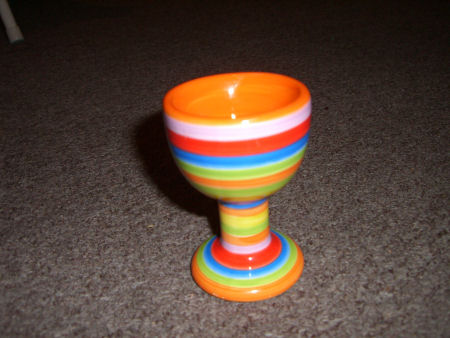 Now I will assume she bought this to match my amazingly beautiful rainbow flat, and more specifically my mug and bowl (one of which I'm pretty sure I got from her). I also definitely got the cool plate from her, so here's all 3 of them – with the egg cup too! =P~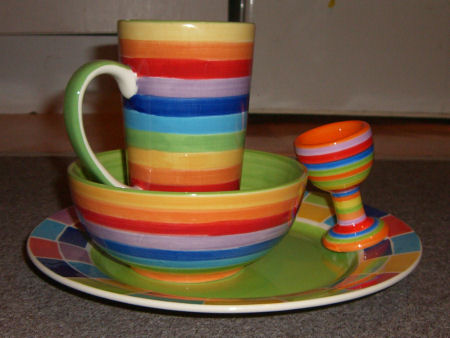 Sooooo this is the amazing coincidence (!!!) – they both bought this for (unrelated) reasons, yet the presents go together perfectly! In fact I could not have tried squi's present without the slore's (for indeed I did not own an egg cup until now).
So now of course… the Eggsperiment!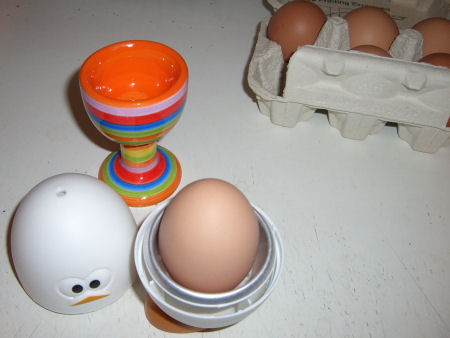 Are you excited? (yes I bought the eggs just for this)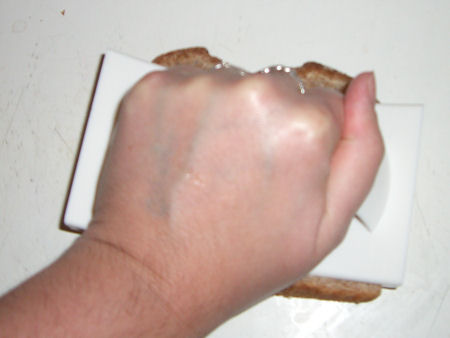 Cutting the toast! :] Actually I was quite apprehensive about this – I was sure I'd end up fishing burnt bits of toast from the toaster – but it worked out quite well. 🙂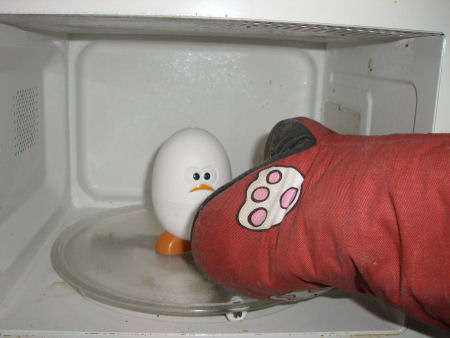 The instructions said to use an oven glove for removing the egg so I did. Probably should've turned it round the other way since the glove is a cat and the egg is a bird and all that… the bird looks scared enough anyway :))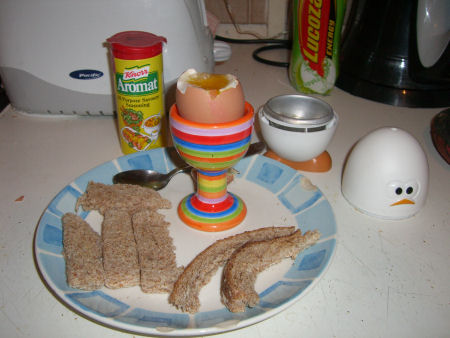 End result. Ok I'll admit this was the third attempt. :))
The first time the egg was way too done (tho yum, so I ate it of course). The 2nd time it was rather too runny, so I binned it. The 3rd time it was slightly less runny, so I ate it, and it was very yummy, and made me feel all weird cuz I'm sure this is the first self-made soft-boiled egg I've ever eaten in my life. 😛
Finally,
let me display the other presents I got from the Cuntbag and the Twat, aka the Scots. (I'm sure they'll love being associated with each other)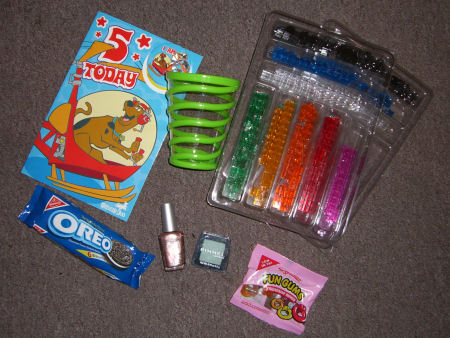 Green cup, bronze nail varnish and (green!) eyeshadow from whore 😀
Pixelblocks from Twat (I see a huge potential for very cool stop motion movies. just a potential tho, considering my shocking laziness)
Rude card from whore (well the card isn't rude, but her allusion to my "mental age of five years" was. you could chalk this up as another coincidence since squi's Pixelblocks say "yrs 6+" lol)
Oreos from whore. Pink sweets from twatface. (oh yes, and my MAP's present also included chocolates! Another coincidence? I think not! :)) )