NB This is part of my Part of my ABC Project, more info here.
… Ant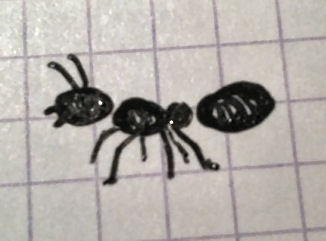 It is rather late so here's a quick'n'dirty drawing of an ant. *lol*
… Artist
The above is my table at the moment. Not much has come of the mess but I had a little bit of fun at the week-end. Funnily enough all day at work I just wanted to come home and draw some more, but once I got back I just went to bed. You see why I really need a project. Everything seems much more fun in my head than in reality.
Bonus: Buchstabensalut is a poem I wrote over five years ago (gasp!) which is kind of about the letter A so I thought I'd add it here. It's in German, obviously.