Check out the difference of sleeping in my own bed, on my amazing Tempur memory foam mattress, vs normal box spring bed…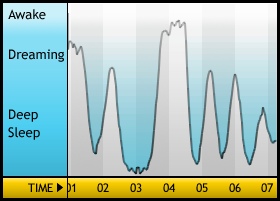 3rd February, boxspring mattress
Went to bed / woke up: 00:54 / 07:17
Total time: 6h 22m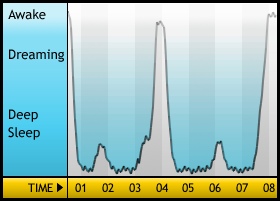 4th February, memory foam mattress
Went to bed / woke up: 00:31 / 08:17
Total time: 7h 46m
Other factors: boxspring was more exposed to traffic, but I was wearing earplugs (none last night). Boxspring bedroom also probably had drier air due to central heating.
Definitely felt more rested after the Tempur night. Woke up both times without an alarm clock.
The "almost awake" spike at 4am both nights is interesting too. I remember being semi-awake at some point the first night, but not last night. I do remember dreams I had the first night, and none last night. (which is not to say I never dream in my own bed. I do)
Graphs by the cool
Sleep graph
iPhone app, which uses the accelerometer to measure this. I was worried the Tempur mattress would not translate my movements so much, but the middle spike is the same height both nights (and the test run was positive).
I'll keep doing this, it's fun! 😀