Told you there'd be a bike entry, hehe.
Yeah so as I said in my previous entry I went for a bike ride. Originally we were gonna go to Rottingdean on the Undercliff Walk today (we = Jana, maybe Antje, and I). Then the weather forecast for Sunday was heavy showers, so I decided to do Rottingdean yesterday. Which was also very nice by the way.
Then today against all odds the weather was nice when I woke up. I called Jana but she couldn't be bothered. No undercliff walk for me then, so I went inland. It's funny cuz I'd actually just said to the guys yesterday I didn't think I'd dare to go to Devil's Dyke just yet (lots of hills), maybe in a few weeks.
But that's exactly what I did! Even better than that, I cycled to Ditchling Beacon first, then across the Downs to Devil's Dyke, and then back into Brighton. I tried to show the route on Google Maps but it gets confused cuz it doesn't know how to walk across the Downs, so I've sorta made my own map: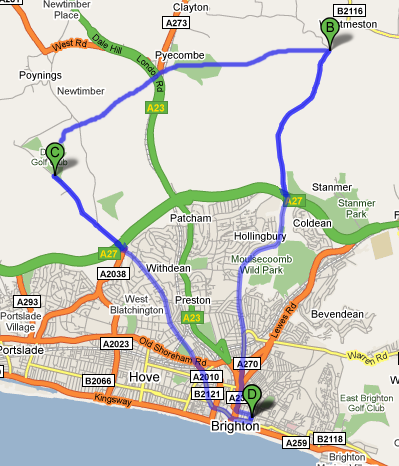 I've worked out it comes to around 16.5 miles / 26.5 km (fucking hell, that is a lot! *lol*). Next time I will know exactly cuz I've bought one of those little bike computers at Asda (and also lights, and a tyre fixing kit. I just need a pump now. and mud guards, says Jeff).
The whole thing took me around 3.5hrs, and it was seriously unbelievably awesome!! I saw so many things (two windmills called Jack and Jill!), and met so many cute people – I can't wait to go on my next tour! There's a photo set on Flickr which I invite you to peruse. Also you'll finally see Billy! I realise I hadn't posted a pic of him yet! Definitely in a worthy setting here! 😀
There were some hills towards the end that almost killed me (I had to get off and I still got totally out of breath lol), but what use is a bike ride if it isn't a proper workout? Also it became somewhat of a race against time from around Pyecombe onwards, after I'd seen dark ominous clouds gathering over the sea. I lost the race and became very wet. :)) I'm an idiot tho, next time I'll go better prepared. I had to ask nice lady in the Devil's Dyke ice cream van if she had something to protect my iPhone, and she gave me two coin bags. 😛
So now I'm back and reasonably achy, but with an incredible sense of achievement. 😀