Monday September 22, 2003
Back2Red
Category: Updates | 15 Comments | Posted 15:48
I've dyed my hair again, so I ain't fiery no more. I was fed up of people telling me my hair was pink.

Now at least there's no mistake possible.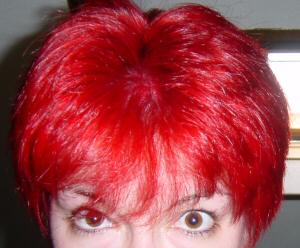 Other than that, I've been kinda active updating my sites. I've uploaded the latest travel pics, 45 all in all, mainly of Paris of course. There's a separate page for Montmartre cemetery (also Paris), and there are also pics of the gorgeous Reims Cathedral. Oh and I've finally updated my Arabian Fanlisting, but I doubt that will interest any of you

I think I'll finally edit and upload the pics of Brighton & Preston cemetery now. I mean, it's my fave cemtery ever... it's just that it's gonna be so much work as there's so many pics - probably 200 or so, and many of them non digital. *sigh* I should also tidy my closets...