Wednesday September 10, 2003
It's My Burfday!
Category: Life & Me | 13 Comments | Posted 15:55
And I got wonderful presents, which I will show here.


First off there are those from BML Me, which I got a few days ago and unwrapped at 10 past midnight or so, with her taking pics on the webcam!

She's put up a cuuuuute page about it on her site, with me grinning madly and tearing up wrapping paper, so everyone go here!! Ok, and here's a clearer digicam pics of the presents: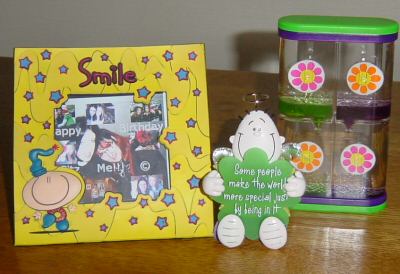 Aren't they adorablest? The wee guy says "Some people make the world more special just by being in it."


Kyoot or what!?

THANKS BML Meeee!!!

Then this morning I got a card with gift from Sinead, just in time, hehe, and is this rather funky necklace:
Be cool and gothic-looking right?

So big thanks to Sinead too!!!

Got cute & funny cards from both of them too, but they are private

(not that they're really secret, but I don't have to share everything with the world do I?

)
Aye, I also wanna thank everyone else who thought of me and did cute things like mentioning me in their diaries and starting (and posting in) cute threads at exactly midnight (those are two separate links!), and ringing me and texting me and emailing me!

You're all big cuties!
On a different note, I bleached my hair again yesterday (well, the roots). The plan was to dye it red afterwards, but the result is so outrageously bright and fiery that I'm going to keep it for a while at least.

Check this: