Ok, Paris update
Wed, May 24 2006 @ 12:55 // Category: Life & Me // 20 comments
Prue's still sleeping (she looks so cute & I wanna take a photo, but that would probably wake her up...) so I'll try to write that Paris update.
Where shall I start... maybe with the most annoying thing. See, I forgot to change the cam settings back after my last London visit so all my Paris photos are 640x480.

There were some really nice ones, and of course quite a few with Prue & L.J. and now I'll never have them proper sized.

Ah well.
Ja so Paris. Paris was great.

The weather was not so great, tho not as bad as we had feared (they'd predicted heavy rainshowers throughout. We did get rain, but with sunny spells). Ok as usual after my Paris trips I will have to do a long "what we did" list... hope I can remember it all, it seems so long ago now.
Saturday we mainly walked around and went to shops I think... once we had our (soaking wet) Prue we went to lunch at an Italian restaurant near the hotel (which, for the record, was in the 11th arr't, near Bvd Voltaire)... then got the métro to the Galeries Lafayette: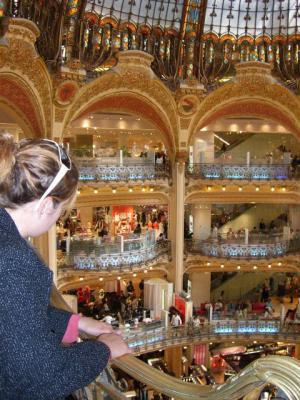 A Prue looking down.

The view from the top of the Galeries... been there done that I know.
From there we walked back down towards the Seine, and then along the Seine to the Eiffel Tower. Caught the métro to Sèvres-Babylone cuz I'd suddenly remembered this cute parc (square Récamier) I'd discovered last time which was closed. Well, it was closed this time too. *lol* So we went to the Espace Electra where there was a (free) photo exhibition about "Photographie Francophone"... was kinda interesting.
From there we walked back towards the Quartier Latin, but ended up sitting behind St-Germain-des-Prés sipping rum, talking, and answering some stag night guy's "kinky questions". Until we got cold, then we walked on. Saw my beloved Notre Dame, sat in front of it, took pics.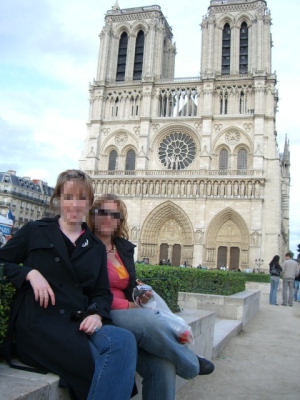 Didn't get permission to show faces for this one.

Found out there was one of their "shows" 45mins later. They're always fun, it's like a multimedia prayer to the virgin Mary - they have this huge screen hanging in the middle where they project images while playing hymns and stuff. It's great cuz the Church is all dark and there aren't thousands of people walking around. It was very beautiful, I love my little church. I had a massive crying fit with lots of dad-missing about half way through, but it passed. I think we went home after that... sort of forgot to have dinner, so Prue went to bed hungry, poor thing.
Next day... God I don't remember. Ah I do now. We walked! Basically it was sunny, so we said we'd make the most of it because undoubtedly it would start raining again soon. So we walked to the Bastille, where there was a fun market: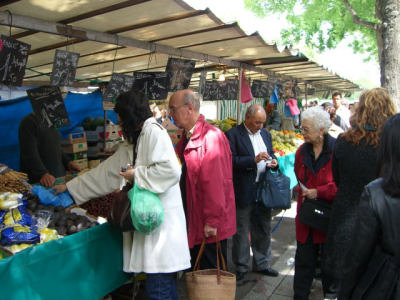 We then walked aaaall the way through the 4th arr't and I showed them the Place des Vosges and the Marais, and we went into the Musée Carnavalet cuz it's free and it has cute scale models of Paris streets, and I saw Marcel Proust's bedroom again, and I took a cool pic of L.J. in a mirror: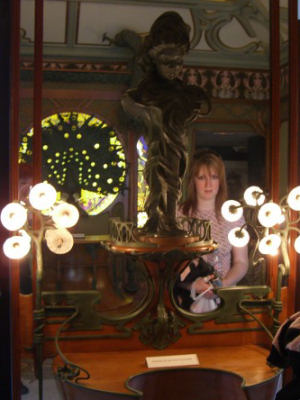 And then we sat in front of the Centre Pompidou for ages, talking, and then I showed them the Hôtel de Ville, where there was an AIDS solidarity march going on (with some peace thrown in lol):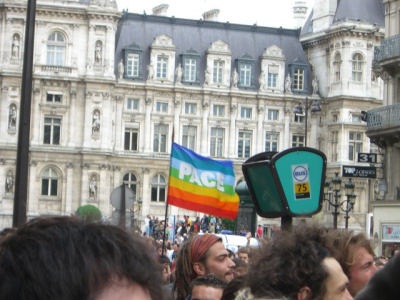 And then we caught the métro to Montmartre to look at pretty Sacré Coeur and at pretty view: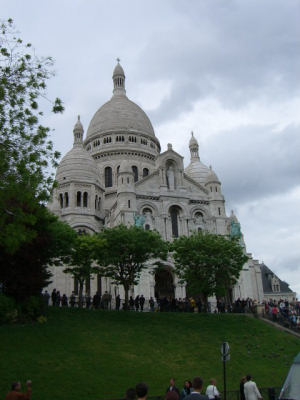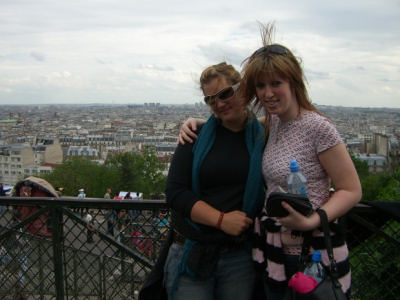 Prue and I then went to the Espace Dalí which is also up there, it was very cool. Then it started pissing it down so we went into the church (along with hundreds of other tourists). There was a mass going on so we listened to some of that - I've definitely had my share of Catholicism on this trip.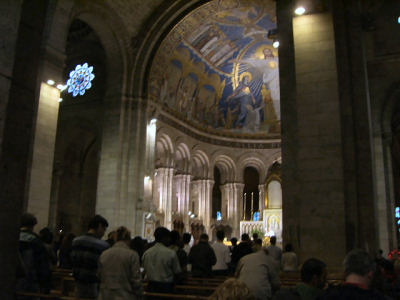 Was still raining but we made our way back anyway. And we hid under a tree for a while to escape the worst of the rain. I was feeling a bit fluey all of a sudden. So I was annoyed. And Prue took a pic.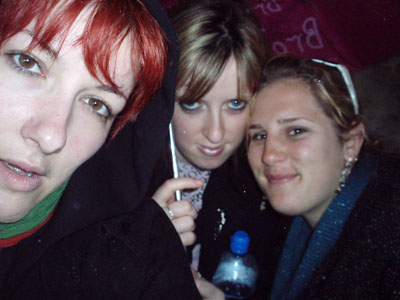 After that I bought an umbrella. A very cheap and crappy one, but it kept me dry. Anyway. We, um, went to the Quartier Latin again I believe... yep yep. Had a drink: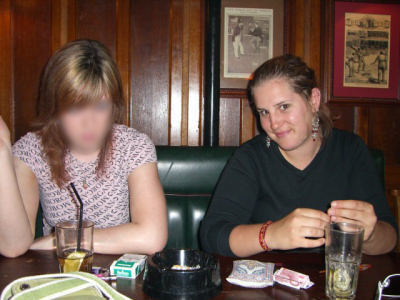 Then went to a Thai restaurant, had very yummy food, complained loads about how full we were, then went for a walk to encourage digestion. I took them to the Pont des Arts for pretty views and we even managed to catch the sparkly Eiffel Tower.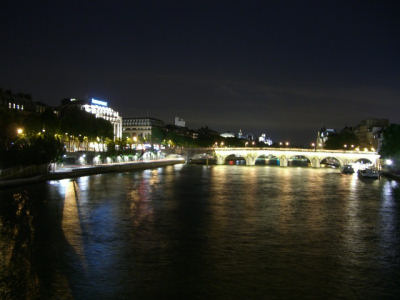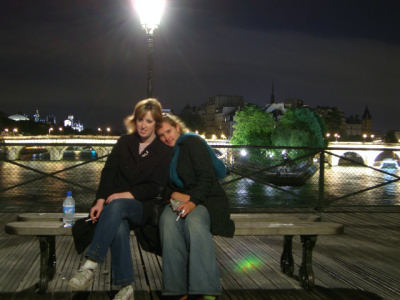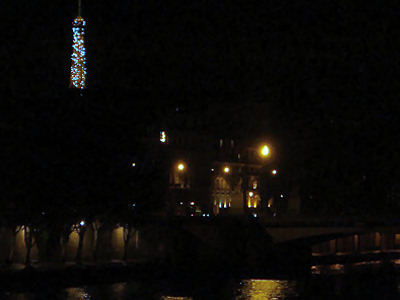 Then we walked back and found a Scottish pub. So we went in there. Cuz, you know, one of us is Scottish, so that's what you do. We had many drinks and much fun and then got chatted up by sleazy guys. I'd almost forgotten about sleazy guys! Like, that they lurk about in pubs ready to pounce on innocent girls. They were delighted to meet Lisa, Penny and Clarissa tho. Yann started fondling L.J., Patrick started massaging Prue and, um, Yann ended up telling me I have all these great talents and have to believe in myself. After literally 3mins of speaking to me. Oh great, do I have "no self confidence" written on my forehead??

And of course he could tell after 3mins how many talents I have. Apparently he could hear it in the way I talk.

Right.

Slimebag.

We fled after a while and walked aaall the way home to the hotel - about 50mins away. It was 2am by then (too late for métro you see). I love late night Paris.

Well, I love anytime Paris.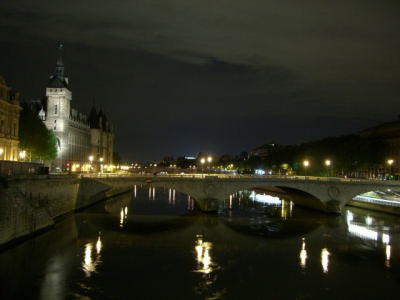 Yet another one of my countless "illuminated bridge at night" pics

Right. Last day (wow I can't believe I remembered it all). We started out with L.J.'s beloved Arc de Triomphe (the only reason she went to Paris, really) - check out the big happy smile on her face.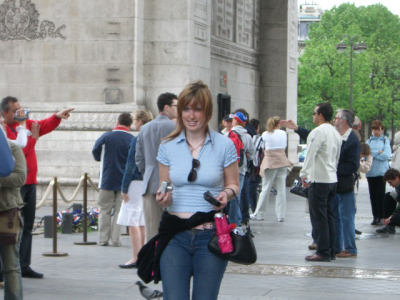 She went up on her own so Prue and I sat and got told off by policemen for having our feet up.

Then we walked down the Champs Elysées and bought amazingly cool tacky Eiffel Tower lighters that have a green flame. (!!!) And we walked on and on and on to the Musée Maillol where they had a Magritte exhibition that Prue and I absolutely had to see cuz Magritte is amazing. And we enjoyed it very much, but the slore got a bit bored I believe cuz we were in there a while.
Then we went to fun shop where I bought a supercute spoon, and then we walked back towards St Michel to catch the métro to the Gare du Nord where we had our luggage cuz it was time to leave. And as we got on the RER I got a call from BMI telling us our flight had been cancelled and we'd be on the next one. 2.5hrs later. Hooray for underground reception!! Soooo we turned around, got back out, went online, had Häagen Dasz, had two pizzas between the three of us and pissed off the restaurant staff with our special requests, then finally caught the RER again and made our way towards the airport. Via Gare du Nord. To get our luggage.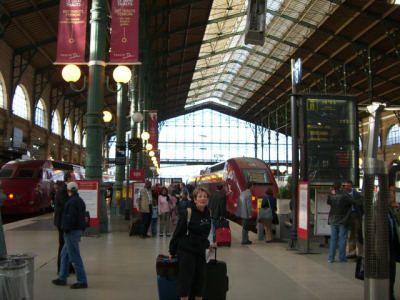 Look! It's a biiig train station!
Yeah and the rest of the trip is just the usual boring stuff... waiting at airports, being delayed even further, waiting at National Express bus stations, being cold, waiting at Gatwick for train, being tired, oh so tired, waiting at Brighton station for a taxi, being told the weather has been shit and will be shit by cab driver, and finally getting home at 2.30 in the morning and collapsing in an exhausted heap!!!!!
The end, for I need to go check on Prue now. She's awake and I am a rude host. Will tell you about what we did once we were in Brighton some other time. Byebye.
---
Wheeeee @ entry, and

@ blurring!
Ah the memories, it feels like it was only two days ago, I wonder why.
I wanna be back in Paris!

I miss it and I love it and everything sucks now. Although we do have a Proo...
Posted by: The BML on Wed May 24, 2006 at 14:33
---
Well. I do. You have nothing

Posted by: Clarissa on Wed May 24, 2006 at 14:39
---
Not for long. *snatches*
Posted by: The BML on Wed May 24, 2006 at 14:45
---
*locks away*
Posted by: Clarissa on Wed May 24, 2006 at 14:54
---
"Then went to a Thai restaurant, had very yummy food"
Pah! You always refused to go to an Asian restaurant with us because you thought the food was so disgusting.

Posted by: Katja on Wed May 24, 2006 at 17:56
---

Yeah well I'm slowly overcoming my childhood trauma. Still hate Chinese and Japanese tho.
Posted by: Clarissa on Wed May 24, 2006 at 18:50
---
The Asian restaurant at the Hauptbahnhof is a Thai. We really would have liked to go there with you. And what's the big difference between Chinese and Thai (apart from Thai food being sometimes spicier)?
Posted by: Katja on Wed May 24, 2006 at 19:07
---
I think Chinese, Thai, and Japanese food are quite different!
Of course I like Japanese food the best, no octopus and dead fishes though please

Posted by: jimmyboy on Wed May 24, 2006 at 19:38
---
Yes I agree with Jimmy. The taste is really quite different.
Posted by: Clarissa on Wed May 24, 2006 at 20:34
---
I have converted her to an Asian lover.

... not like that.

YAY THAI!

Posted by: Le Prue on Wed May 24, 2006 at 23:11
---
Woo pretty Paris.
Why are you all wearing warm clothes?? Isn't it meant to be summer?
Posted by: snow on Thu May 25, 2006 at 0:15
---
MEANT to be... BLOODY EUROPEAN RAIN! *rages*
Posted by: Le Prue on Thu May 25, 2006 at 12:51
---
One minute it pissed it down, then the sun shone, then the wind blew us halfway to Germany. You never knew, so we wore everything *lol*
Posted by: The BML on Thu May 25, 2006 at 17:31
---
And then whinged and whined that we (well, BML) had to carry all of those extra layers when we (she) wasn't wearing them.
Posted by: Le Prue on Thu May 25, 2006 at 21:25
---
Clarissa had chinese at my house a few weeks back!

Ya, really!
Posted by: squiZZle on Fri May 26, 2006 at 12:47
---
I didn't whinge.
Posted by: The BML on Fri May 26, 2006 at 13:11
---
We all did. It's nothing to be ashamed of. Whingers unite!
Posted by: Le Prue on Fri May 26, 2006 at 15:20
---
I didn't whinge.
squiZZ. You're ruining my image.

Posted by: Clarissa on Fri May 26, 2006 at 15:50
---

sorry Clarissa! What if I make it known you only had chinese cuisine because I strapped you down and force-fed you it through a straw in your nose? Would that save your image?
Posted by: squiZZle on Fri May 26, 2006 at 16:48
---

yeah probably but that might conjure up some other disturbing images in people's minds

Posted by: Clarissa on Fri May 26, 2006 at 17:29
---