The Paris Entry
Tue, Aug 30 2005 @ 19:08 // Category: Life & Me // 2 comments
Yeah so it's time to write about my stay in Paris, even tho I am very very tired and will be off to bed soon. As you should be aware from previous Paris entries, these are partly/mostly for my own records (and my mum's) so may be boring to you - but I don't care. *lol*
Sooo I left on Saturday morning - more like the middle of the night. My bus was at 3.15 (yikes) & my plane at 6.20, just as last time. It all went smoothly - I'd actually gone to bed at 8pm so although I was still tired most of Saturday, it was actually bearable. I met my mum at the hotel around 9.45 (she'd been there since Friday) and we planned what to do.
For some reason there were a lot of exhibitions about the Jewish population and/or the Holocaust, so we decided to have a theme weekend & do almost all of them. We started off with Les Juifs dans le Marais at the Hôtel de Ville (the Marais is a district of Paris where the "Jewish quarter" around the rue des Rosiers was, and partly still is, situated, tho by now most of them have moved away). We learned that they tore down a lot of buildings after the war, whole streets in fact, as they were mostly old and dilapidated. So after that we went for a walk around the actual streets to see what they had done to them, plus the still intact old quarter as well.
My mum wanted to see the newly opened Shoah Memorial which has the names of all 76,000 french Jews that perished in the war engraved on walls (and also an exhibition about the Holocaust of course) but turns out this was closed (we should've known - d'uh - it was Saturday, i.e. Shabbat!). Sooo we rescheduled that for the next day. Next we wanted to see a photo exhibition about Mauthausen (a concentration camp in Austria, in case you didn't know) at the Musée de l'Histoire de France... but turned out this only opened at 2pm lol. We found a little jewish delicatessen which was actually open (despite Shabbat!) and had lunch there (very yummy stuff - mainly Eastern European really), and since it was still not 2pm we then went to see the appartment of Victor Hugo at the Place des Vosges (so yes we broke with our Jewish theme). Returned to the Mauthausen exhibition & did that... then walked around the Marais some more... then finally, as there was some time left, we went to see L'Humour dans L'Art at the Maison Wallonie-Bruxelles (Belgian that is) - a lighter counterbalance to the depressing previous stuff.
Jaja. We had dinner at one of the restaurants close to our hotel, where I had the best mashed potato I have ever eaten (with olive oil). My fish wasn't so nice tho lol. Then I was tired so we went to bed.
Next day. We went to the Musée d'Art et d'Histoire du Judaisme (again, general exhibition about Jewish customs & history, Jewish life in France etc, also about pogroms and antisemitism). This was not unlike the one I saw in NYC. They also had a temporary one with photographs taken by Evgueni Khaldei during the 2nd world war - he was a soldier in the Red Army. We hadn't planned to see this in advance but it was actually really interesting.
Ja then we finally went to the Shoah Memorial. By now we knew most of the photographs... the same ones tend to come back again and again - notably this one which apparently is the only one left to testify of the most extensive raid against Jews in France, that of the "Vel d'Hiv" in July 1942.
This brought our Jewish theme to a close. We went to a guided tour about the "Oldest Street in Paris" (the rue St Martin in case you're interested), but got very bored very soon and my mum faked being sick so we could leave. The guy who did the tour looked really concerned and worried & told us to come back any other day so I felt a bit bad, but my mum said this was still better than telling him "you're boring us to death."

We had lunch at a very nice Italian restaurant where we both had delicious pasta. I highly recommend it, but I don't remember what it's called.

It's in the Rue de l'Hirondelle off the Place St Michel tho.

Mhm. Then we walked around a lot and admired beautiful Paris. When we got back to the hotel I had to translate for an Italian tourist and my mum said she thinks my Italian is still quite good and I should practice and, well, use it. lol.
Last day. Ah yes, we went to see "Mémoires de l'Humanité", a photo exhibition at Unesco Headquarters (plus I showed my mum their cute Japanese garden)... and then 20 ans de Reporters sans Frontières, also photos, on the gates of the Jardin du Luxembourg. This combination was interesting again as it highlighted the two opposite sides of humanity - the first one focused on "on our planet's cultural diversity", whereas the 2nd one showed mainly war, despair, horror and injustice. Hm ja. After that we really just went shopping for necessities like chocolate, shampoo etc. My mum left around 5pm, I did some more shopping (found a nice bag!), sat and read for a while, then left too. It was very nice and warm again btw.

This concludes the Paris account and I shall leave you with a few pointless pics.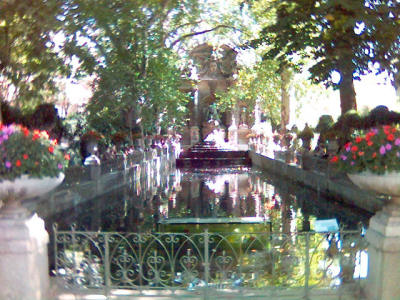 A pretty fountain in the Jardin du Luxembourg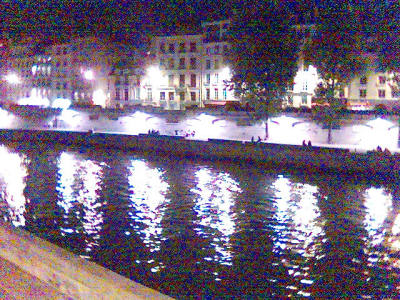 The Seine at night. lol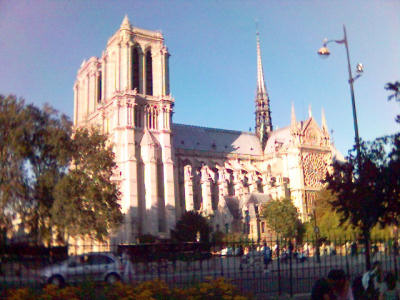 View of my beloved Church

(yes I'm obsessed)
---
I should go to Paris with you some time

Posted by: Val on Thu September 1, 2005 at 2:16
---
Yeah I was saying that to my mum when we were there actually! That you're one of the people I would like to take. Didn't we somehow half-heartedly plan that at some point?

Posted by: Clarissa on Thu September 1, 2005 at 9:20
---