It's Easter! (and I have a Lo)
Sat, Mar 26 2005 @ 22:12 // Category: Mon & Lo updates // 5 comments
So my Lo requests that I update. Which is a bit silly of her really cuz I'm only gonna write about what we've been up to, which she knows all about already cuz, well, she's here. (I have a Lo you see!) But of course her wish is my command so here's a long rambling update about the past 2 or so days (with lots of pictures).
Ok so after cleaning the flat and all I went to pick her up on Thursday night (very late, her plane landed 23.40). Rather unexpectedly Stansted was packed, there was a long queue to get into the car park (which was fine cuz I was early), and there were also fuckloads of people waiting at international arrivals! Check this out: (this was at midnight!!!)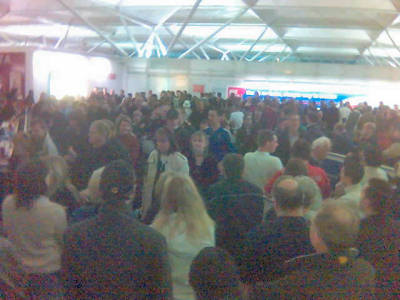 Aaanyway. I found a Lo: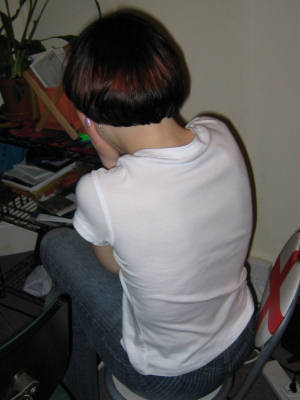 (pic taken just today, only authorized one *sigh*) and off we went back to Brighton. That's where I live. Lo brought me lots of fun stuff!

(she always does!

) and though she's actually gradually presented it to me over the past 2 days, I'll show you all of it in one go!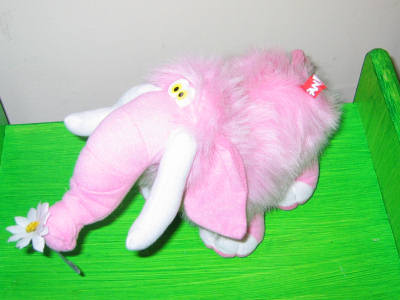 It's a mammoth!!! It's carrying a daisy! It's so fucking cute!
For some reason it reminds me of the Heal the World video.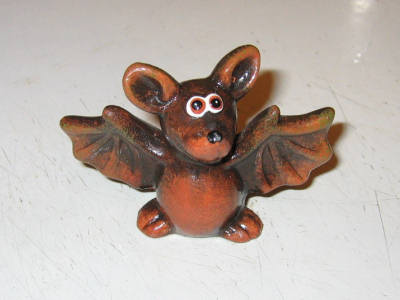 A bat!!!

I like bats! So now the bat I got from Mon has the company of
the bat I got from Lo. (I also got a bat from BML Me - that one's huge!)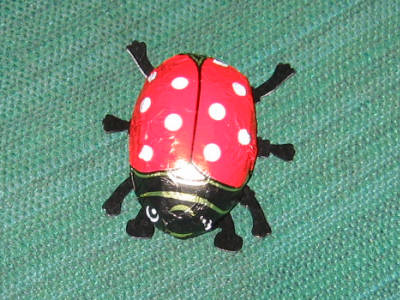 Chocolate ladybug!

(I got 3 in all)

Food!

Quite spooky cuz we used
to have those very same ones at home, only smaller.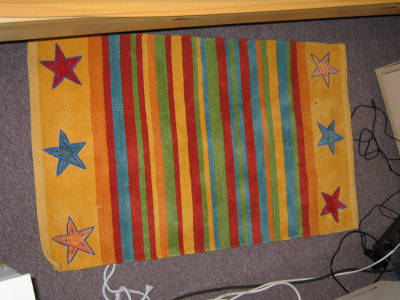 She got me a colourful rug! That's even spookier cuz I've been thinking about getting some nice rugs for a while

(and I don't think I ever mentioned it to her)

.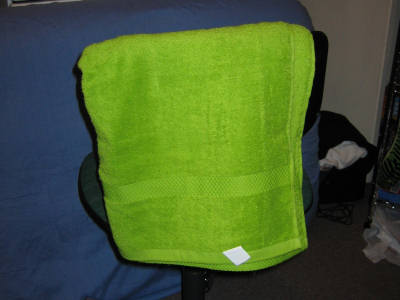 It's a towel! It's greeeeeeeen!!!!!



HOORAY for the green brigade!!!!!

Ok so that was Thursday. Friday we got up and unwisely went online. And got rather delayed. Well ok I take the blame. I am addicted okay? We were chatting to an amazingly perfect Tay and an incredibly cute squiZZ with cam, visual proof below (he's gonna hate me for this, but Lo wants me to put it up, and she is here and he is far far away

).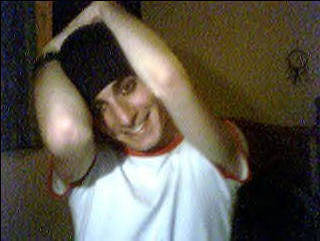 Very cute as I'm sure you'll all agree.

Note the eyeliner.

Um anyway I tore myself away and off we went to Arundel Castle. It was a glorious sunny day btw. I took my cam (so did Lo), but unfortunately I only noticed once we got there that I'd left the memory card at home.

So I was stuck with nothing but my crappy mobile cam, but here are two pics anyway....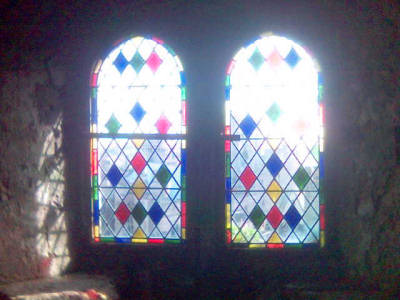 Cute colourful window inside some chapel in the old keep.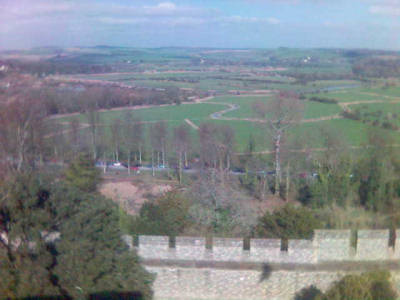 View south from the keep.
Weren't allowed to take pics inside the castle so wasn't that much of a loss. We also went to Arundel Cathedral and stuff. Then we came back. And went to the beach. And had fish & chips. We saw a wonderful sunset and I wanted to take a (mobile) pic and Lo said it would probably turn out shit but I tried anyway and it is kinda crap but you get the idea anyway: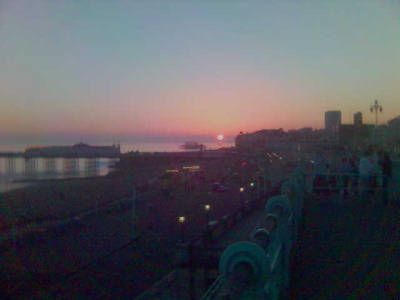 Then we went for a walk around town giggling immaturely and doing other immature stuff. Then thought we might wanna go to the cinema.. so decided to go home & online to check out the program at UGC Cinemas. And found out our broadband had died a cruel painful death.

We almost died with it!

We did just about manage to connect to Yahoo for chatting purposes, but anything else was virtually impossible.
I tried every single thing, then rang BT and spent ages on the phone to them with no conclusive result (details would be boring) , but while I was on the phone Lo played with my fridge magnets, result below, hehe).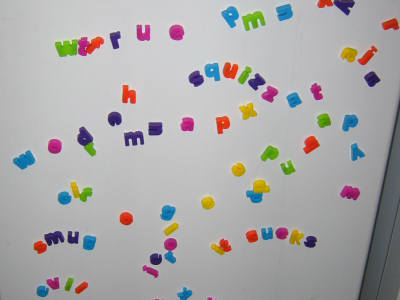 Sooo we watched DVDs instead (other people had done research for us and there was nothing good on at the cinema). The wonderful God, the Devil & Bob and the incomparable Blackadder ("oooh you have a woman's legs!"

)... we chatted too. Mainly to squiZZ, Tay, daniel, Mon... then Lo was tired and we went to bed.
First thing we did today of course was test the Net... still not working. It had grown worse if anything. I rang BT again and they said they'd have a look at the line. Which could take 48hrs but probably longer cuz of bank holiday.

So off we went into town for an extensive (5hr!) shopping spree. I said "I have to stop spending" about 10 times during the day. I bought LOADS of fun stuff tho!

Here are some samples: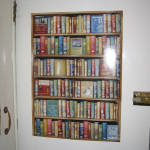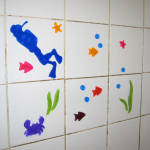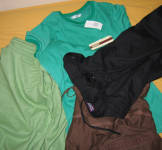 Left to right: wrapping paper used as a poster; fun gel gems; lots of clothes. I also found some presents for various people whose birthday it is in the near future.

Lo bought some stuff too - clothes and earrings. Then we were knackered and hungry so came home. Tried the Net (of course), still nothing (of course), so we decided to be creative instead!

Which (of course) is a good thing. More details at a later date.
Then I tried to set up dialup (we'd bought a modem cable earlier). And it didn't work. Settings prevented us - dialup is completely disabled on this fucking machine!!!! I tried a system restore to about a month ago - to no avail. Then in desperation tried broadband again - and lo and behold, it was working again!!!!! Don't ask!

(don't say it was related to the system restore - I tried from the desktop too!) Anyway who cares - we're back!!!!

Hence this update!

Which brings us to the present (Lo is bored - I told her she would regret this) and I can stop now.

PS squiZZdrooling







(cough, excuse us)
---
Spooky!!!!
Heal the World!!!!
Green!!!!
Bats!!!!
Daisies!!!!
Clarissa!!!!!
Lo!!!!!




You lose me with the internet mumbo jumbo, but the rest of the entry is very cuuuute!
Posted by: jimmy on Sat March 26, 2005 at 23:57
---
("oooh you have a woman's legs!"

)...




I wanna see again
eughhhh! did you have to use a photo of my fat arms?!

Posted by: squiZZ on Sun March 27, 2005 at 4:48
---

I knew you wouldn't like.
She made me.

(sorta. it's cute

and skinny arms!

)
LOL hyper Jimmy again?

Posted by: Clarissa on Sun March 27, 2005 at 11:02
---
*looks at Lo pic*
Waist.

Posted by: The BML on Sun March 27, 2005 at 12:17
---
Mine

Posted by: Clarissa on Sun March 27, 2005 at 12:35
---