Rainbow pretty!
Wed, Feb 16 2005 @ 22:04 // Category: Photolog // 5 comments
You might know about the rainbow theme of my Darryl... (ahem, everyone who reads this blog will know plenty about it). Anyway. I have in my 'big room' three hooks on the ceiling. I wanted to hang sth from those hooks, just cuz they were there. Today I was in Evolution (the most marvellous shop in town) and found pretty things. I bought, and I hung.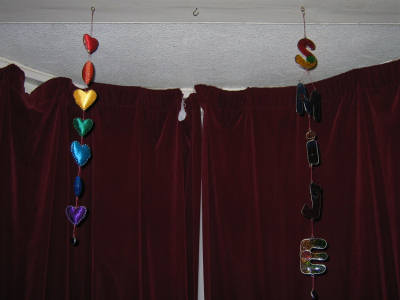 Two pretty things. The right one says 'Smile', you see?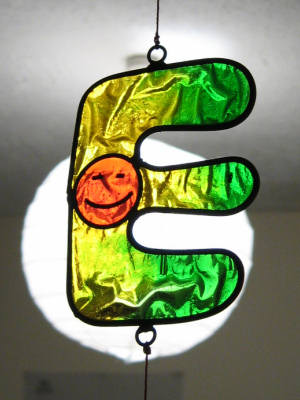 This one's glass. Prettier with light you see.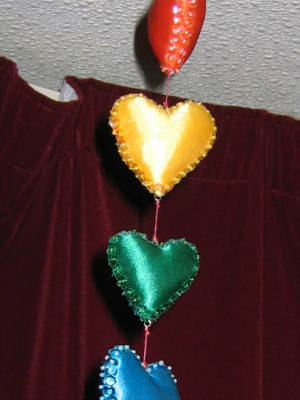 A close up of this one too so it doesn't feel left out. Sequins!
Pretty ja?

I know, three hooks, two things. Will find one more.

---
How about a guinea pig?
Posted by: Anon on Wed February 16, 2005 at 22:57
---



They're not rainbow-coloured tho.
And you're not anon to me.

Posted by: Clarissa on Wed February 16, 2005 at 23:00
---
I know, on both counts...

Posted by: Anon on Wed February 16, 2005 at 23:04
---
Darryl gets cuter and cuter.

Posted by: jimmy on Thu February 17, 2005 at 15:35
---
Ahh Evolution...

I was in that shop in Brighton. I loved some of the things in it. I remember thinking I must buy some things in there for whenever I get a flat.
Never happened tho.. pffff
Posted by: Woods on Sat February 19, 2005 at 9:52
---